The Museum of Geoastrophysics at N.O.A.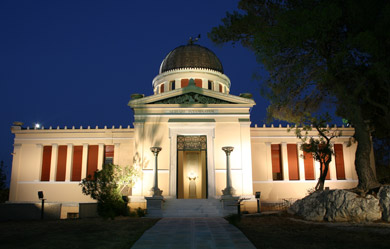 The National Observatory of Athens (N.O.A.) has been the first research center in Greece covering a broad scientific field from astronomy to geosciences. It was founded in 1842 thanks to a donation by Baron George Sinas, a famous Greek of Diaspora. The neoclassical 'Sinas" building was the first observatory of Athens built by the well-known Danish architect Theophil Hansen on the Nymphs Hill in the historical centre of Athens. Major archaeological sites located in the same area include the grounds of ancient Agora, Acropolis and Pnyx.
An important collection of astronomical, seismological, meteorological, time and geodesy instruments of the 19th and 20th centuries is now housed in the restored "Sinas" building: the museum of Geoastrophysics. The permanent collection comprises four thematic exhibitions: "Time and space", "Astronomical observations", "Meteorology" and "Seismology".
Moreover, the historical library of N.O.A which includes valuable astronomical and scientific books is accommodated in the museum. Also, a widescreen monitor displays the current seismological activity of Greece, in real time.
The visitor will admire, in their context, instruments which have been used to determine Athens exact time, to draw the map of Greece, to observe the wonders of the sky, to assist in weather forecasting and last but not least, to monitor and evaluate continuous seismic activity.
A geoastrophysical historical path leads the visitor from the Sinas building to the Dorides Dome on the Pnyx Hill, where ancient Greek astronomer Meto realised his unique observations of solar and lunar motion.
The building complex of the Observatory includes three buildings of 19th century erected by the renowned architect Ernst Ziller, two of them featuring two famous instruments of the same period: a 40 cm refractor and a 162 mm meridian circle (Syggros donation), both in operational condition.